Last weekend my friend Blesz and I went to Biofitness gym in Quezon City to try crossFit training/bootcamp with coach AZ. It's a total body workout, I sweat a lot and curse a lot (sorry mom). It felt like I'm one of the contestants in the TV program The Biggest Loser. It felt like I'm getting punish for not being fit or something. But don't get me wrong, I'm not complaining at all. I actually enjoyed it and I'll definitely go back there.
"So what is crossFit training?", you might ask. CrossFit is
a worldwide phenomenon that has hooked athletes, gym rats and anyone who just wants to transform their physique into a stronger,
fitter one... all
within 30-45 minutes of a workout!
It's a strength and conditioning program that uses a variation of exercises. Includes a mixture of cardio and weights. The different exercises include running, rowing, jump rope, weightlifting and rope climbing. Along with barbells, dumbbells, pull-up bars, kettlebells, medicine balls and box jumps.
Eating healthy and the right foods are necessary to benefit most from CrossFit. Paleo and The Zone diet are two popular trends. I wrote about Paleo diet before, you can find the post here.
Here are some CrossFit movements we did on my first day: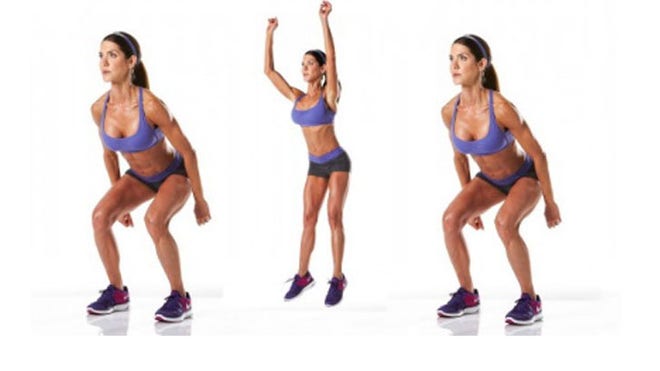 jump squat
high knees
sit ups
scissor kick
I'm not gonna reveal all
CrossFit movements we did
coz if I tell you, I have to kill you. Just kidding! I suggest you go to Biofitness or to any gym near you. You can do all these exercises at home but it's better if you train with a physical trainer so they can tell if your doing it in the right form. Our trainer also suggested that you train with someone who is stronger than you so will get motivated to do
AMRAP. (As many rounds as possible)
You are given a time frame (10 minutes, 20 minutes, etc.) and are to do as many rounds in the allotted time.
It's fun if you beat your friend's PR. (personal record) According to crossfit.com, m
ost CrossFitters record their weight and times each day coz it helps with improvement. I suggest you download some phone apps
that allow you to record your times, weight used, and "Workout of the day". Or you can bring a personal journal each day. You'll see yourself improving better than without tracking.
Interested? I'm sure you are!
Unit MO-5 986 Caly Bldg. Aurora Blvd.